An important part of any good key tracking system is auditing capabilities. Audits are a critical element of keeping track of keys and who's custody they are in. In order to ensure and maintain key holder compliance after a key has been issued, regular audits are recommended.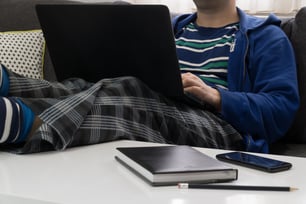 Last year, InstaKey released Audit, a tool that makes it easy to audit keys and key holders. Administrators can easily build recurring audits based on the individual needs of an organization. The best part is – this tool is sweatpants-compatible! There's no need to pick through your closet to put on work pants and drive from location to location to conduct audits. Anyone that can receive emails or text messages can participate in an audit, in real-time.
Now, Audit is more easily accessible within SecurityRecords.com®. Users with access to Audit will now have a "New Audit" button present on all detail pages (Users, Locations, Doors, Orders, Systems) in Records. Each of these has been designed to pre-populate the necessary filters in Audit, so you simply click to start a new audit, and wait for the results. By default, these are set to run once, but may be adjusted to be recurring as well.
There are three different types of audits available:
Listed Audit:

This type of audit allows administrators to send out a list of serial numbers (on keys) to key holders via text or email. Those communications include a link that allows key holders to confirm what they have.

Unlisted Audit:

This audit will send an email or text a link to key holders that will prompt them to list the key serial numbers they have, which will match those serial numbers with the records on file.

Listed and Unlisted Audit:

This is a combination of both audit types listed above. It works the same as the listed key audit, but key holders can add to what they've been assigned, allowing for additional input. For example, if for some reason a key holder leaves the organization and gives their keys to another key holder, the remaining key holder can list those in this type of audit.
Administrators will have access to real-time updates on how audits are progressing to be able to gauge areas of progress and hindrances, offering a high-level summary as well as InstaKey feedback on possible actions needed.
If your key holders can't account for all of the keys, then you know you have a potential breach. If you're in grocery or retail and the store in question is a high shrink store, rekeying should be strongly considered.
Key Tracking System Audits: A Demo
To start a new audit, visit any detail page within SecurityRecords.com. Starting a new audit is only three clicks away. For example purposes, we'll show you how to do this from a Users Detail page:
If you don't have a key tracking system in your arsenal of key control, be sure to check out our free ebook, A Key Tracking System for Lean LP/AP/Security Teams to learn more about:
How to keep track of mechanical keys with limited resources

Best practices for enhancing keyed security and key holder compliance

How to manage keys and key holders using SecurityRecords (and other helpful functions)

What the process is for converting paper or digital keying system charts into SecurityRecords

How InstaKey takes the heavy lifting of data administration off of your plate

How to use data visualization to manage the overall performance of your key system