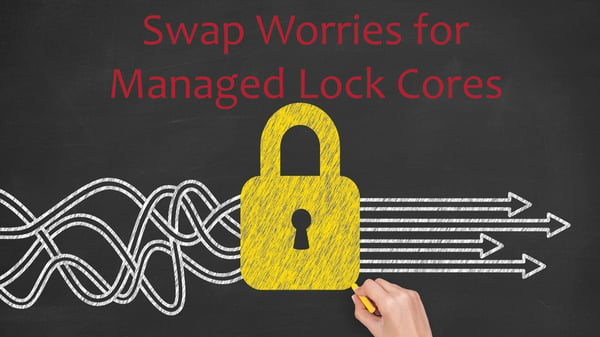 If you've ever been in charge of supervising your office's key management system, you may have run into a situation like this:
An employee has lost a key to your front door. It's critical to office security that you take immediate care of the problem. Simply making a new key isn't enough. You'll have to swap out the lock core or rekey. There's no choice, especially since you have no idea who may have found that lost key.
You contact your lock and key vendor only to find out it might take two weeks – maybe a few days more – to get a swappable lock core and keys delivered. What are you supposed to do in the meantime?
One good idea would be to consider finding another vendor. Okay, you don't want to make a drastic change right now. We understand. It can be expensive, and you don't feel like you have the bandwidth to onboard a new program. You're still generally happy (although your satisfaction level is dropping fast) with your current key/lock system.
But what would you do if you could keep that system and get key and interchangeable core replacements within 48 hours or less and at a lower cost? You'd jump at the chance to make an easy change like that.
Well, get ready to jump. Getting cores faster at a lower cost is a reality.
InstaKey, known for our proprietary restricted, user-rekeyable key systems, has partnered with other major manufacturers of non-restricted keys and interchangeable lock cores to provide you with the cores you already use, to keep costs down, and get you the product you need faster.
Partner with us for your non-InstaKey proprietary hardware and we'll give you a rebate on used cores that we will recycle for you!
Finally, as an InstaKey customer you gain access to SecurityRecords.com, the only cloud-based platform that makes it easy to organize and manage your key system anytime, day or night.
Here are just a few of the features:
Link employees to keys and access points

Maintain your own key system

Give each administrator distinct access credentials

Customizable software lets you use names and terminology already in place

Key system reporting, including exception reporting
Save money, get product faster, and gain visibility into your key system.