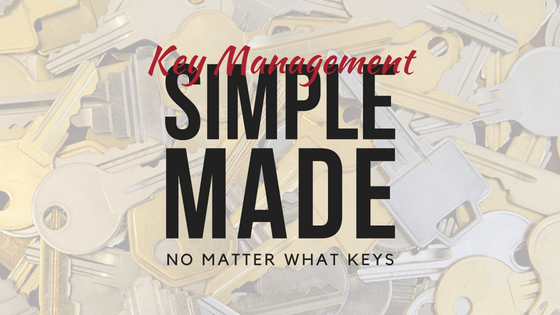 It happens to all of us. We put down our keys and then we can't find them. We search through our home or office looking for the elusive set of keys. It's such a common problem that some inventive entrepreneurs have even come up with ways to tag our keys so we can presumably always find them. And that's just one set of keys. For people tasked with the job of managing keys for a business or organization the job becomes exponentially more difficult.
Tracking 10 or 1,000 keys can become a virtually impossible job. Not only do you need to know who possesses each key, you also need to know which keys open which doors. You have to make sure people return keys when they don't need them anymore or as they leave the organization. The process is detailed and time consuming. If you let it get ahead of you it can quickly become an indecipherable tangle of keys, doors and people.
But there is key control software available that can come to the rescue. InstaKey's patented web-based SecurityRecords.com® software provides a centralized platform for complete key control management. It was designed for InstaKey® keys and locks, but it also works with other manufacturers' products for those organizations not wanting to migrate to a total InstaKey® solution at this time.
As a web-based software platform SecurityRecords.com® can be viewed or edited 24/7/365. Each administrator can be given distinct access credentials. Login requires a three-tiered process via double-blind encryption to keep the system secure. Users can receive full or limited access based on their job function and need.
The software can be customized for each organization using names and terminology already in use. SecurityRecords.com® is user friendly and allows managers to quickly drill down to retrieve needed information including key location, order history and associated costs. It uses drop down menus making it easy to understand key to keyholder to door access relationships.
SecurityRecords.com® includes a dashboard allowing you to quickly review and analyze up-to-date key control information. The easy-to-read charts provide immediate information on your key management program helping pinpoint potential problems allowing you to react quickly to solve issues.
Because it is web based you can either maintain the program yourself or outsource its management (InstaKey® can help with this too). Audits and reports can be generated and shared with multiple departments or managers and the software is flexible enough that reports can be integrated with other data sources.
Whether you have InstaKey® keys and locks or those from another manufacturer, a web-based key management system like SecurityRecords.com® can help better protect your property and people while saving money and time.
Want to learn more? Request a demo of SecurityRecords.com today!
Going to NRF Protect in Dallas? We'd be happy to give you a demo in our booth too!