LAKEWOOD, Colorado – (November 8, 2018) – InstaKey® Security Systems announces new features in the key management system SecurityRecords.com® for the budget-conscious key system administrator. The new features released include Order and Freight Analysis Expense Summaries and they are easily accessible on the SecurityRecords.com dashboard.
These features were introduced as a snapshot into fiscal responsibility to help track spending in different expense groups, regarding key system spending.
The Order Analysis report reflects associated cost and spending for various order types. Users can drill down into order types and get a detailed report of costs. This data may be exported as a custom report for further manipulation in Excel.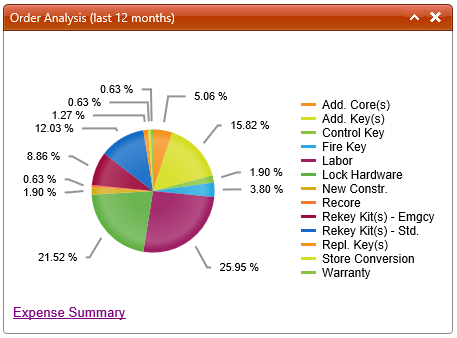 The Freight Analysis report reflects costs associated with various shipping types. This report can also be drilled down for more detail. Like the Order Analysis report data, this data is also exportable to Excel.
About InstaKey® Security Systems
For professionals charged with managing physical security and loss prevention, who need to keep track of brass keys and reduce operating costs, InstaKey® is the only provider that offers a consultative partnership behind hardware and software, making key tracking and cost control significantly impactful to your bottom line, unlike other mechanical lock and key manufacturers who provide hardware only. For additional information please visit www.instakey.com or call us at +1 800 316 5397.
About SecurityRecords.com®This patented cloud-based SaaS software technology by InstaKey® modernizes the way key systems are managed. It is specifically designed to give visibility into the inner functions of a key system in a way that paper files, spreadsheets or PC-based software can't. Get real-time visibility into key assignments, what keys have access to, what keys have been made and which locks have been changed, who has access to the data and what record modifications have been made. It also gives insight into how the entire key system is operating with dashboard tracking of frequencies, orders, supplier turnaround times, along with product and freight costs.It's your data to manage, share, integrate and audit to enhance compliance and reduce costs. Take complete control of your key system information with SecurityRecords.com®. For additional information on how you can use these new features, please contact your InstaKey® Account Manager. If you aren't yet an InstaKey® client, visit https://www.instakey.com/what-we-do/key-system-record-management or call us at +1 800 316 5397.
###
CONTACT:

Cita Doyle
Director of Sales & Marketing
InstaKey® Security Systems
+1 720 235 5325